We, while making early literacy a joy for children, simultaneously teach them vocabulary and language (with phonological awareness) amongst other things. The fun learning techniques – like singing, reading aloud, storytelling (& retelling) and meaningful play acting all paves the way for sound academic absorption and enjoyment in the later years. Other fun activities like gardening, cooking, shopping, dancing, sports etc enable them to develop as happy individuals that form the mosaic of a happy society.  Research tells us that a sound early education program can impact the social skills and other intellectual growth parameters, helping the children in holistic development.
We have integrated Sports & Arts into our curriculum and our students are trained in dance, music and arts by the best instructors. It has been proved beyond doubt that these activities help children to maintain good physical stamina as well as acquire qualities of leadership, sharing, team spirit and tolerance. Training in Art can positively impact academic achievement, social and emotional development  in  children apart from improving their skill in all other spheres of academic life. Our ongoing research on the intricacies of early childhood education and consequent modification of the syllabi keeps us on the forefront academically. While keeping up with the standards of International education, we strive to keep the nuances of our own culture and values in our curriculum thus providing an integrated arena for the child.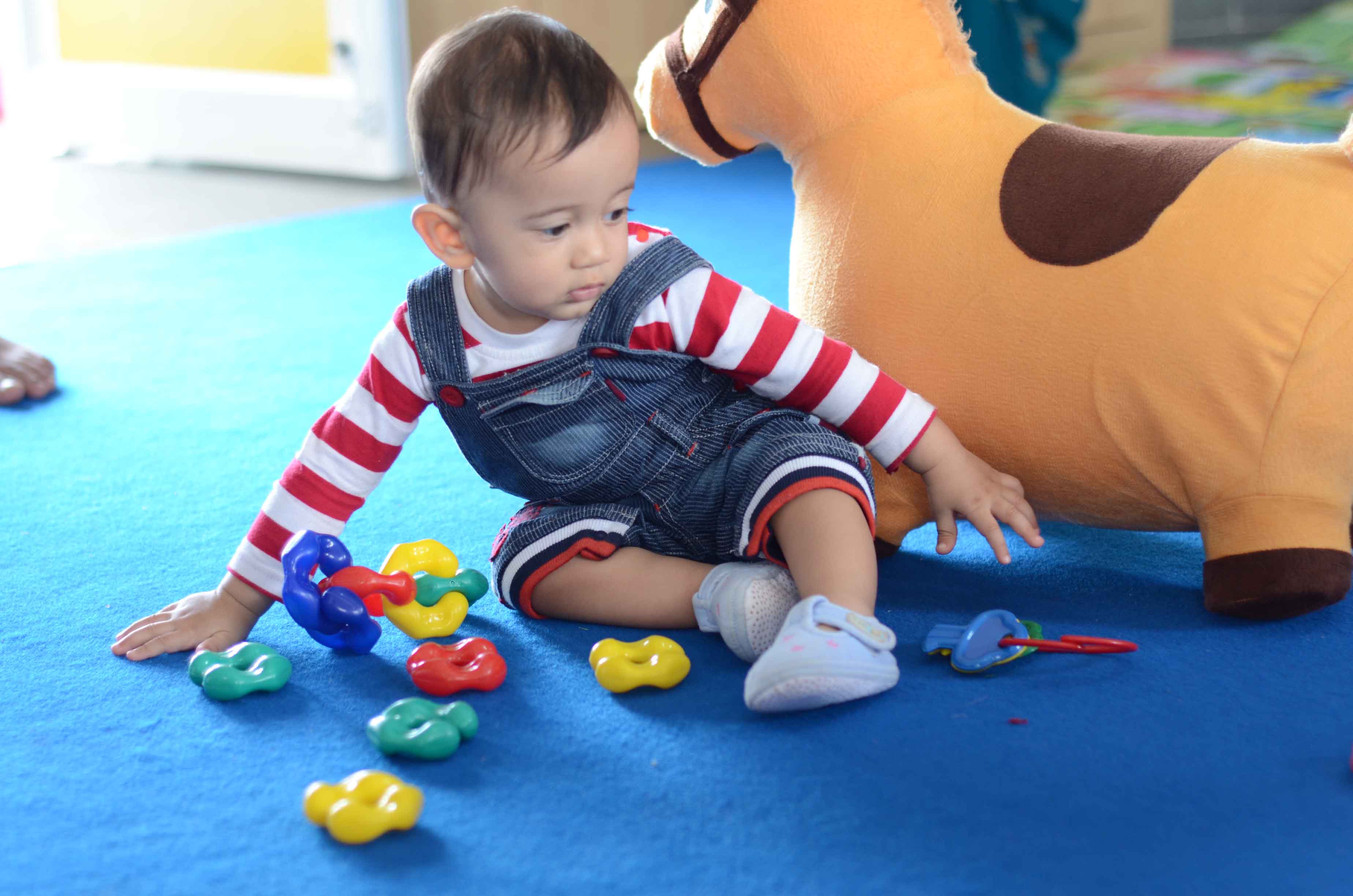 Daycare for infants & Toddlers
Age Group – 6 months onwards
Round the clock diligent care to your loved ones with focus on extreme hygiene and safety.
CCTV cameras installed in the centre keep track of the activities ensuring safety and functional enhancement. 
Utmost care  given to the routine of the child regarding food, sleep and other practices offering  optimum comfort
Vigilant supervisory staff who ensure the safe handling of   the infant / toddler at all times.
 Maintenance of conscientious records of the unit,for reference and authorization.
Play Group
Age Group – 2 years and above
Fun filled activities and programs that help children to absorb the lessons while apparently at play.
Right training facilities enabling children to build communication skills & boost their confidence.
Activities to improve fine and gross motor skills and stimulate cognitive development.
Activities incorporated like Storytelling, Sand play, Splash pool time, Nature walks, Gardening, Field trips, along with Rhymes, Role play etc.
Pre - kg
Age Group- 3 Years and above
Child-centric programs executed through play and fun filled activities that fill the child's day with wonder and awe.
Programs that are specifically designed to arouse and sustain the curiosity of the child, through intriguing games and activities.
Programs with structured curriculum of diverse concepts find place here, since the children of this age group have enormous grasping power and are ready for such activities.
A comprehensive curriculum that is academically engaged whilst totally committed to fun learning techniques and enquiry based themes.
Introduction to English alphabets, Phonics, Rhymes, Numbers, Colors, Shapes, Environmental studies etc to enabling the children get a peek into the academic world.
A preamble to the study of the fascinating world around them with its wondrous collection of flora and fauna.
KG -1
Age Group- 4 years and above
Study of advanced topics in English and Math, as well as increased writing.
New subjects like Science, General knowledge and physical Education to be integrated in the curriculum at this stage, to advance the learning process.
The lessons reinforced with the help of promotional and exploratory activities by the children
Children to be subjected to recurring assessment to ascertain their academic capabilities and school readiness.
KG-2
Age Group - 5 years and above
Language proficiency and numeracy apart from subjects like Science, Creative Arts and physical fitness at a higher level.
Expression by children through writing and art to develop an enhanced sense of communication.
Encouraging children in assimilating the idea of self, Group, Ethnicity, Nation etc.
Instillation of the ideas of Good and Bad into them at this stage to create a lasting impact on their minds
Preparing the ground for a value based education.
Curriculum
We, at Eduaxis have formulated our own "Global Pre-school Curriculum" based on the immense research carried out by our expert team of academicians, child psychologists and other intellectuals in the field.. The most coherent and comprehensive parts from various prominent syllabi like IGCSE, CBSE, ICSE, IB and State Board have all been considered and included in our curriculum to enable the child to transcend into the next academic level with ease.We incorporate the latest teaching methods that are personalized to suit the need of each and every child, while our vibrant, child- friendly curriculum promotes active learning for the holistic growth of the child.
The understanding that' each child is unique' makes us adapt to diverse strategies for touching each and every mind. According to research, the brain development of a child from birth to age five is more aggressive than at any other point in a person's life, even though our brains continue to grow through adulthood. It is also learnt that the three fundamental factors that facilitate proper brain development are: quality of environment, quality of interactions and quality of teachers. According to Albert Einstein "Play is the highest form of research." We totally subscribe and adapt to this theory..We have also experienced that "playful learning" is what works for the young and they respond well to the fun learning techniques.
Our Facilities
Impressive infrastructure with well-equipped classrooms, modern teaching resources and state of the art Educational materials.
Prolific school area of 13000 Square .feet with a fenced in play area and lush green lawn.
Spacious outdoor play area consisting of splash pool, skating rink, sand pit, play station and multipurpose court.
Library with an interesting collection of 500 plus books apart from audio-visual media.
Healthy teacher – student ratio
Pro- active teaching method that is resonant with the children's vibes and focus on their developmental needs and learning styles.
Tie-ups with good schools providing assistance in admission process to Grade I
Child – safe and friendly environment with CCTV surveillance.
Transport facilities for children residing in surrounding areas
Confidential and psychological counseling for children and parents, if necessary.
Parent Web Portal – a log in facility for each parent to access weekly updates on the academic and other skills of their children